CYBELE FEMALE FERTILITY

Prepare yourself for the miracle of life.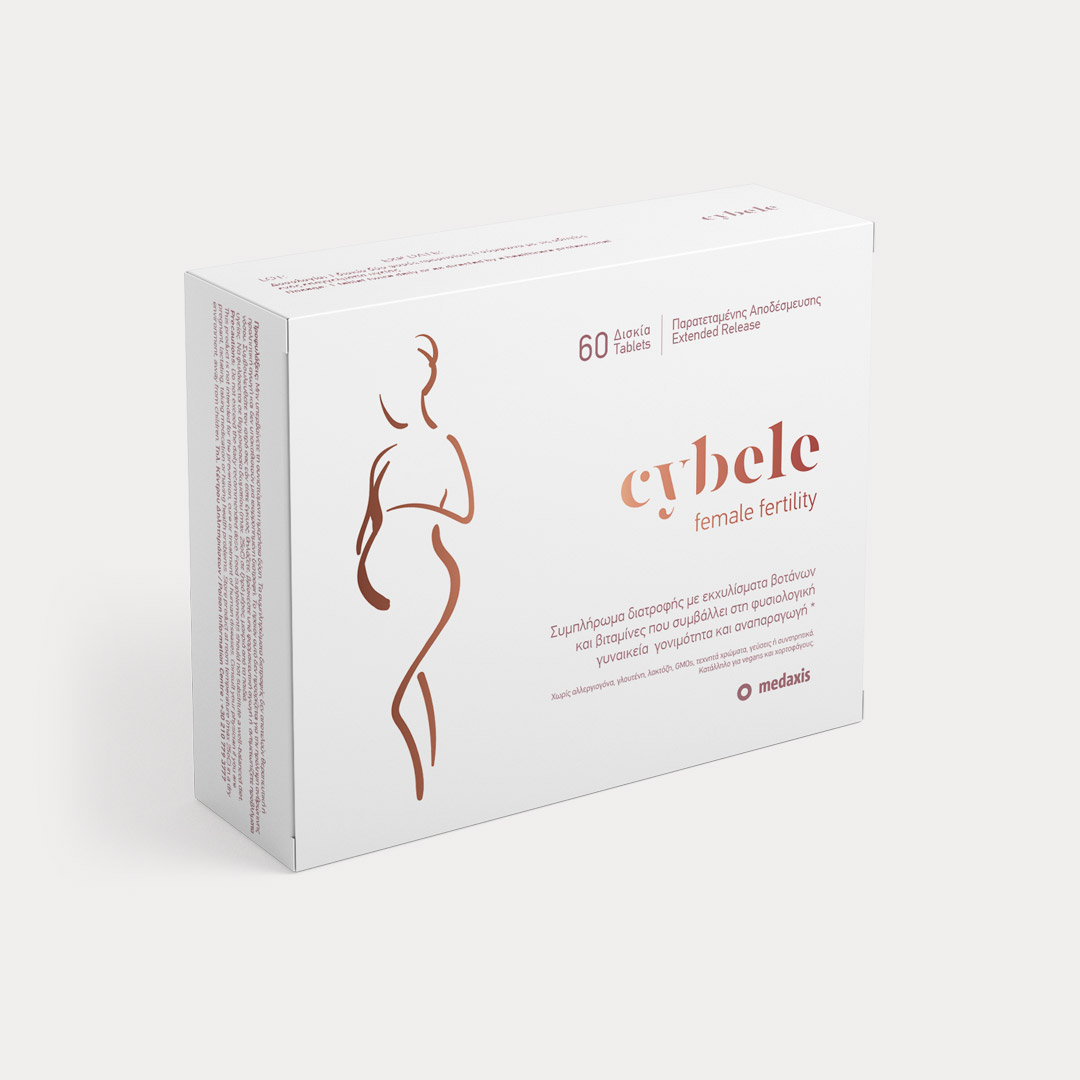 Specialized food supplement with herbal extracts and vitamins that contribute to normal female fertility and reproduction*.
Free of allergens, gluten, lactose, GMOs, artificial colors, flavors or
preservatives. Suitable for vegans and vegetarians.
*EFSA-Commission Regulation (EU) No 432/2012 of 16 May 2012, Official Journal of the European Union
Damiana (Turnera diffusa ή aphrodisiaca)
Aphrodisiac herb with invigorating action on the central nervous and endocrine system. Its rejuvenating characteristics contribute to the normal increase of sexual desire and satisfaction by improving vaginal microenvironment and reducing vaginal dryness. Supports the healthy function of the urinary system.
Rhodiola rosea
Adaptogen used to adjust the menstrual cycle. Its administration resulted in normal menstruation in 62.5% of the women in a study, 44% of whom became pregnant. It helps the body adapt to the effects of stress by strengthening the body's resistance to stress-causing elements, while reducing fatigue.
Myonositol
It is traditionally used for metabolic syndrome and polycystic ovary syndrome (PCOS). It helps insulin to function properly, thus supporting polycystic ovary syndrome or diabetes during pregnancy. In a clinical study of 3,602 patients with PCOS and infertility, administration of myoinositol and folic acid for 3 months resulted in a 70% improvement in the menstrual cycle (2,520 women). Among them, 15.1% became pregnant (545 women). In a subgroup of patients where hormonal values ​​were evaluated before and after treatment, a significant improvement in androgen levels and an increase in progesterone levels were observed.
Green tea
Reactive Oxygen Species (ROS) are present in low levels in the genitals of men and women. An increase in their levels leads to oxidative stress that damages DNA, lipids and proteins. In women, oxidative stress interferes with egg maturation and may inhibit oocyte maturation in vitro. The excellent antioxidant activity of catechins in green tea is the key to improving fertility by reducing oxidative stress.
DHEA (Di-Hydroxy-Epi-Androsterone)
It supports the improvement of egg quality as well as the chances of pregnancy in IVF, as well as the support of the ovarian reserve, especially in women aged 35 and above.
Συστατικά /
Ingredients
Ανά ημερήσια δόση (2 δισκία) /
Per serving dose (2 tabs)
Δ.T.A./
N.R.V. (%)**
Vitamin D3 (as Cholecalciferol)
400 IU (10 μg)
200%
Vitamin E (a-TE) (as Vitamin E acetate)
15 mg (22,3 IU)
125%
Vitamin B1 (as Thiamine hydrochloride)
1,375 mg
125%
Vitamin B2 (Riboflavin)
1,75 mg
125%
Vitamin B3 (Niacin)
20 mg
125%
Vitamin B6 (as Pyridoxine hydrochloride)
1,75 mg
125%
Vitamin C (Ascorbic acid)
100 mg
125%
Vitamin B12 (Cyanocobalamin)
3,125 μg
125%
Pantothenic acid (as Calcium-D-pantothenate)
7,5 mg
125%
Folic acid (as methyltetrahydrofolate)
250 μg
125%
Biotin (D-Biotin)
62,5 μg
125%
Vitamin K2 (Menaquinone-7)
30 μg
43%
Molybdenum (as Sodium molybdate)
50 μg
100%
Chromium (as Chromium picolinate)
40 μg
100%
Manganese (as Manganese chelate)
2 mg
100%
Copper (as Copper sulphate)
0,5 mg
50%
Zinc (as Zinc picolinate)
10 mg
100%
Ferrous (as Ferrous fumarate)
4,2 mg
30%
Selenium (as Selenomethionine)
55 μg
100%
Iodine (as Potassium Iodide)
150 μg
100%
Coenzyme Q10
100 mg
***
DHA microencapsulated
(std.10% DHA TG)
200mg
***
Myo-Inositol
200 mg
***
Rhodiola rosea root extract
(std 3% rosavins)
100 mg
***
Alpha-Lipoic acid
100 mg
***
Damiana leaf extract (10:1) Turnera diffusa Willd. ex Schult)
90 mg
***
Green tea leaf extract (Camellia sinensis (L.) Kuntze) (std.50% polyphenols)
5 mg
***
Glutathione
50 mg
***
DHEA (Di-Hydroxy-Epi-Androsterone)
30 mg
***
** ΠΠΑ: Προσλαμβανόμενη Ποσότητα Αναφοράς / RI: Reference Intake
*** Δεν έχει καθοριστεί / Not established
Έκδοχα / Excipients: Microcrystalline cellulose, Hydroxypropyl methylcellulose (HPMC), Magnesium stearate (vegetable).
2 tablets daily or as directed by a healthcare professional

Suitablefor vegans and vegetarians.
Free of allergens, gluten, lactose, GMOs, artificial colors, flavors or preservatives.