ORIGEN MALE FERTILITY

Take your Life into your hands.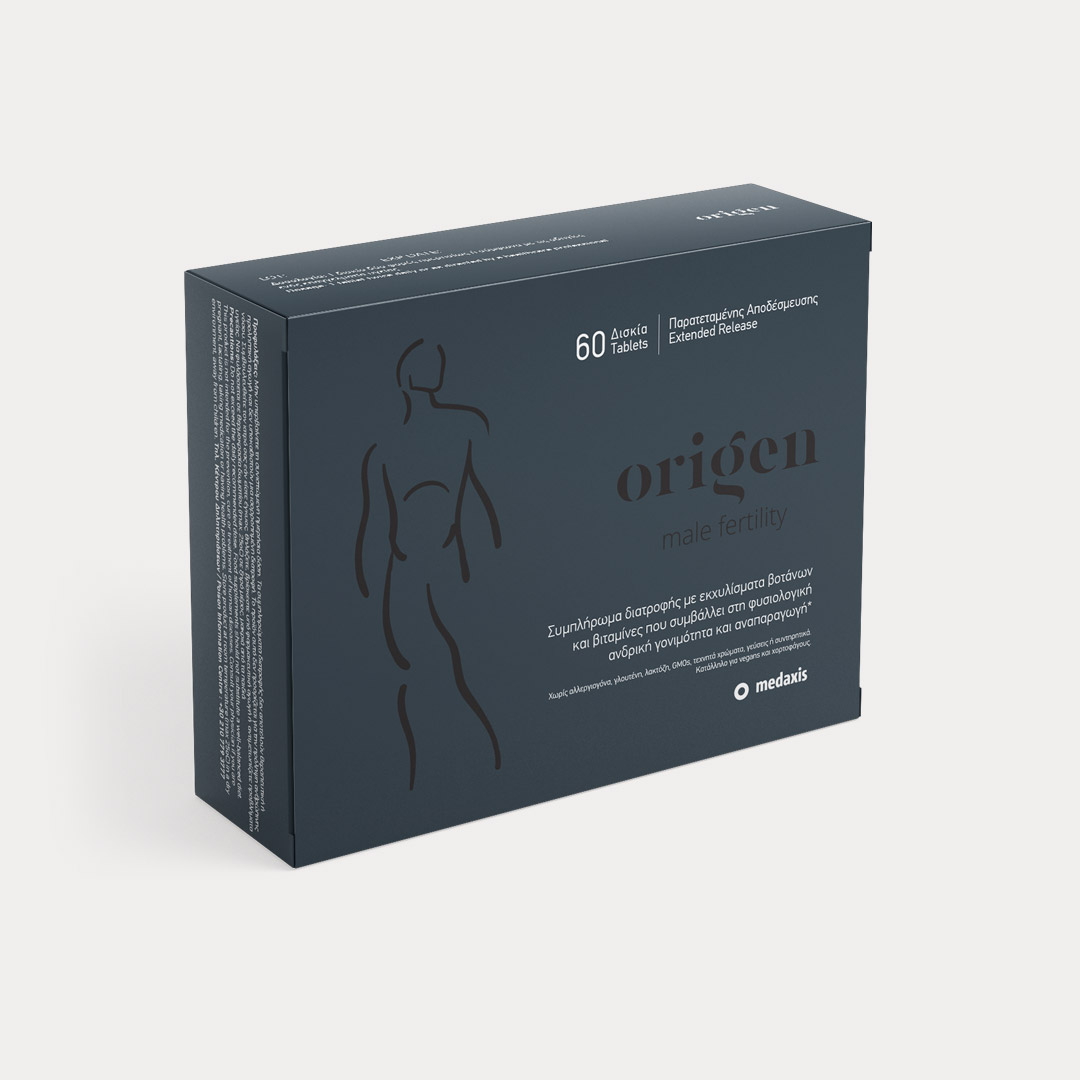 Specialized food supplement with herbal extracts and vitamins that contribute to normal male fertility and reproduction*.
Free of allergens, gluten, lactose, GMOs, artificial colors, flavors or
preservatives. Suitable for vegans and vegetarians.
*EFSA-Commission Regulation (EU) No 432/2012 of 16 May 2012, Official Journal of the European Union
Alpha-linolenic acid
An omega-3 fatty acid necessary for normal human development and proper sperm function. Sperm concentration and motility were positively correlated with omega-3 PUFA α-linolenic acid (ALA) short chain uptake. This is because the small molecular weight ALA chain can penetrate the blood-testicular barrier.
Ashwagandha (Withania somnifera)
A well known adaptogen that helps balance the body's response to stress by reducing cortisol levels. It improves the quality of testosterone and sperm. A study of Ashwagandha root extract (Withania somnifera) in men with oligospermia showed a 167% increase in sperm count, 53% increase in sperm volume, 57% increase in sperm motility and 17% increase in serum testosterone levels 90 days following start of treatment. Clinical studies show that Ashwagandha reduces stress levels after 30 days of administration and even more after 60 days of administration.
Mucuna pruriens
An adaptogen with invigorating, strengthening and aphrodisiac properties. Clinical studies in infertile men have shown that sperm count and motility are significantly restored after administration of Mucuna pruriens for 3 months. Mucuna pruriens is additionally used to restore sexual desire by increasing testosterone and dopamine levels.
Astaxanthin
A carotenoid with antioxidant and anti-inflammatory action. It reduces Reactive Oxygen Species (ROS) in sperm and improves sperm motility and morphology, leading to higher pregnancy rates than placebo (54.5% vs. 3.6%).
Milk thistle
An established hepatoprotective agent in cases of cirrhosis, chronic hepatitis, alcohol consumption and exposure to environmental toxins, through antioxidant activity, exclusion of toxins at the membrane level, increased protein synthesis, exerting anti-inflammatory action and potentially immunosuppressive, immunoregulatory effects, thereby influencing male fertility in a positive mode.
N-Acetyl L-carnitine
Administration of acetyl-L-carnitine to patients with weak sperm improves concentration, number, motility and morphology of sperm. It has a superior effect in increasing sperm motility compared to L-carnitine.
Συστατικά/
Ingredients
Ανά ημερήσια δόση (2 δισκία)/
Per serving dose (2 tabs)
Δ.T.A./
N.R.V. (%)**
Vitamin A (RE) (as Vitamin A acetate and 25% beta Carotene)
2668 IU
105%
Vitamin D3 (as Cholecalciferol)
400 IU (10 μg)
200%
Vitamin E (a-TE) (as Vitamin E acetate)
15 mg (22,3 IU)
125%
Vitamin B1 (as Thiamine hydrochloride)
1,375 mg
125%
Vitamin B2 (Riboflavin)
1,75 mg
125%
Vitamin B3 (Niacin)
20 mg
125%
Vitamin B6 (as Pyridoxine hydrochloride)
1,75 mg
125%
Vitamin C (Ascorbic acid)
100 mg
125%
Vitamin B12 (Cyanocobalamin)
3,125 μg
125%
Pantothenic acid (as Calcium-D-pantothenate)
7,5 mg
125%
Folic acid (as methyltetrahydrofolate)
250 μg
125%
Biotin (D-Biotin)
62,5 μg
125%
Vitamin K2 (Menaquinone-7)
30 μg
43%
Molybdenum (as Sodium molybdate)
50 μg
100%
Chromium (as Chromium picolinate)
40 μg
100%
Manganese (as Manganese chelate)
2 mg
100%
Copper (as Copper sulphate)
0,5 mg
50%
Zinc (as Zinc picolinate)
25 mg
300%
Ferrous (as Ferrous fumarate)
4,2 mg
30%
Selenium (as Selenomethionine)
55 μg
100%
Iodine (as Potassium Iodide)
150 μg
100%
Coenzyme Q10
30 mg
***
Glutathione
50mg
***
Flaxseed oil microencapsulated
(std.30% alpha-Linolenic acid, ALA-TG)
200 mg
***
Ashwaganda root extract (std.5% with anolides, Withania somnifera (L.) Dunal)
100 mg
***
Mucuna pruriens (L.) DC extract (std.15% L-DOPA)
100 mg
***
Alpha-Lipoic acid
100 mg
***
Acetyl-L-carnitine
100 mg
***
Milk thistle extract (std. 80% silymarin, Silybum marianum (L.) Gaertn.)
50 mg
***
Astaxanthin microencapsulated
(Std.2% from H. pluvialis)
1,6 mg
***
** ΠΠΑ: Προσλαμβανόμενη Ποσότητα Αναφοράς / RI: Reference Intake
*** Δεν έχει καθοριστεί / Not established
Έκδοχα / Excipients: Microcrystalline cellulose, Hydroxypropyl methylcellulose (HPMC), Magnesium stearate (vegetable).
2 tablets daily or as directed by a healthcare professional

Suitablefor vegans and vegetarians.
Free of allergens, gluten, lactose, GMOs, artificial colors, flavors or preservatives.